China Daily以《Tianjin's university holds Chinese culture and artistry camp》为题对我校进行了报道
发布时间:2023-01-19
文章来源:
浏览次数:

10
2023年1月19日,China Daily以《Tianjin's university holds Chinese culture and artistry camp》为题对我校进行了报道。现将全文转发如下,以飨读者。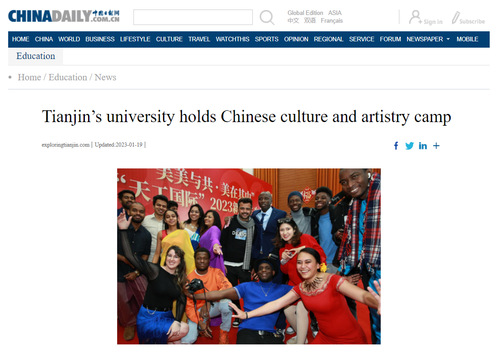 Tianjin's university holds Chinese culture and artistry camp
The "Tiangong Kaiwu" Chinese Culture and Artistry Experience Camp held its Closing Ceremony at Tiangong University on Jan 16. Initiated by the Center for Language Education and Cooperation and the Ministry of Education, the camp was aimed at promoting international Chinese language education and facilitating educational, cultural and technological exchanges between China and countries taking part in the Belt and Road Initiative.
The camp attracted over 130 students from more than 20 such countries, including Pakistan, Bangladesh, Sri Lanka, Russia, and Nigeria. They learned Chinese, sang Chinese songs, and experienced Chinese culture and skills with Tianjin characteristics such as "Clay Figurine Zhang" and Yangliuqing New Year pictures.
The eight-day camp program covered a wealth of learning content such as basic Chinese language skills and courses in cultural and folk customs and natural and regional scenery. The university provided artificial intelligence technology to foreign Chinese learners with subtitles in Chinese, English, and French.
As Spring Festival is just around the corner, a festival gala was also included in the closing ceremony. Students from the Confucius Institute of the University of Nazi Boni(Polytechnic University of Bobo-dioulasso) in Burkina Faso delivered performances of Chinese songs and dancing. More than 400 online and offline students and family members participated in the festival gala. In addition to wonderful performances, the students also wrote Spring Festival couplets, made dumplings, and divided cakes on the spot.
Yuni Dewi Susanti and Juni Stefanus Santoso, postgraduate students majoring in computer science and technology, who just came to the university from Indonesia to study last year, said they were very happy to attend the camp and to learn Chinese and understand Chinese culture. They hoped to continue to improve their Chinese and deepen their understanding of the excellent traditional Chinese culture and contemporary China.
Tiangong University has established long-term friendly cooperation and exchanges with more than 110 universities and academic institutions around the world. It is home to the International Innovation Center of Chinese Traditional Culture and Artistry Inheritance.