CHINA DAILY第7版以《Textiles in sync with new epoch》为题对我校进行了报道
发布时间:2022-06-25
文章来源:
浏览次数:

10
2022年6月25日,CHINA DAILY第7版以《Textiles in sync with new epoch》为题对我校进行了报道。现将全文转发如下,以飨读者。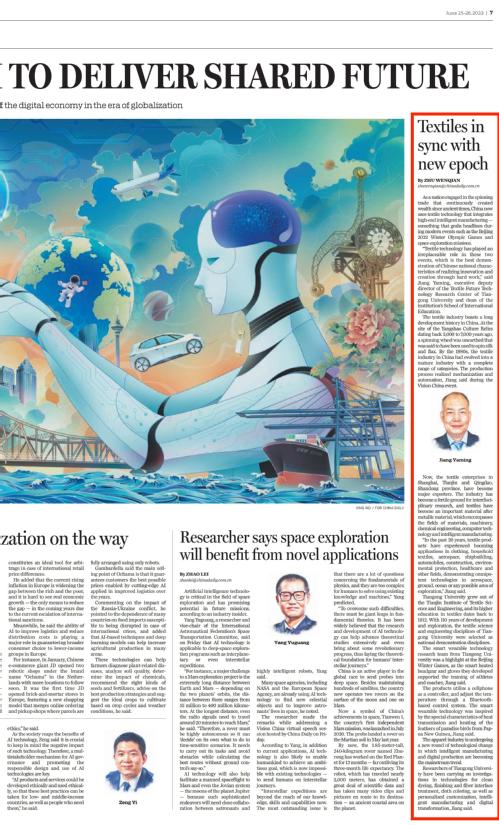 Textiles in sync with new epoch
As a nation engaged in the spinning trade that continuously created wealth since ancient times, China now uses textile technology that integrates high-end intelligent manufacturing-something that grabs headlines during modern events such as the Beijing 2022 Winter Olympic Games and space exploration missions.
"Textile technology has played an irreplaceable role in these two events, which is the best demonstration of Chinese national characteristics of realizing innovation and creation through hard work," said Jiang Yaming, executive deputy director of the Textile Future Technology Research Center of Tiangong University and dean of the institution's School of International Education.
The textile industry boasts a long development history in China. At the site of the Yangshao Culture Relics dating back 5,000 to 7,000 years ago, a spinning wheel was unearthed that was said to have been used to spin silk and flax. By the 1980s, the textile industry in China had evolved into a mature industry with a complete range of categories. The production process realized mechanization and automation, Jiang said during the Vision China event.
Now, the textile enterprises in Shanghai, Tianjin and Qingdao, Shandong province, have become major exporters. The industry has become a fertile ground for interdisciplinary research, and textiles have become an important material after metallic material, which encompasses the fields of materials, machinery, chemical engineering, computer technology and intelligent manufacturing. "In the past 20 years, textile products have experienced booming applications in clothing, household textiles, aerospace, shipbuilding, automobiles, construction, environmental protection, healthcare and other fields, demonstrating omnipotent technologies in aerospace, ground, ocean or any possible area of exploration," Jiang said.
Tiangong University grew out of the Tianjin Institute of Textile Science and Engineering, and its higher education in textiles dates back to 1912. With 110 years of development and exploration, the textile science and engineering disciplines of Tiangong University were selected as national demonstration disciplines. The smart wearable technology research team from Tiangong University was a highlight at the Beijing Winter Games, as the smart heated headgear and gloves they developed supported the training of athletes and coaches, Jiang said.
The products utilize a cellphone as a controller, and adjust the temperature through a Bluetooth-based control system. The smart wearable technology was inspired by the special characteristics of heat transmission and heating of the feathers of paradise birds from Papua New Guinea, Jiang said.
The apparel industry is undergoing a new round of technological change in which intelligent manufacturing and digital production are becoming the mainstream trend.
Researchers of Tiangong University have been carrying on investigations in technologies for clean dyeing, finishing and fiber interface treatment, cloth coloring, as well as personalized customization, intelligent manufacturing and digital transformation, Jiang said.